Month:January 2019
Having a well-made storage shed helps consumers reduce clutter, and it provide more space in the home. It is a place to store items that are only used on special occasions and for special projects. A good storage shed helps owners clear out the garage or rooms. It creates more room in the house and garage.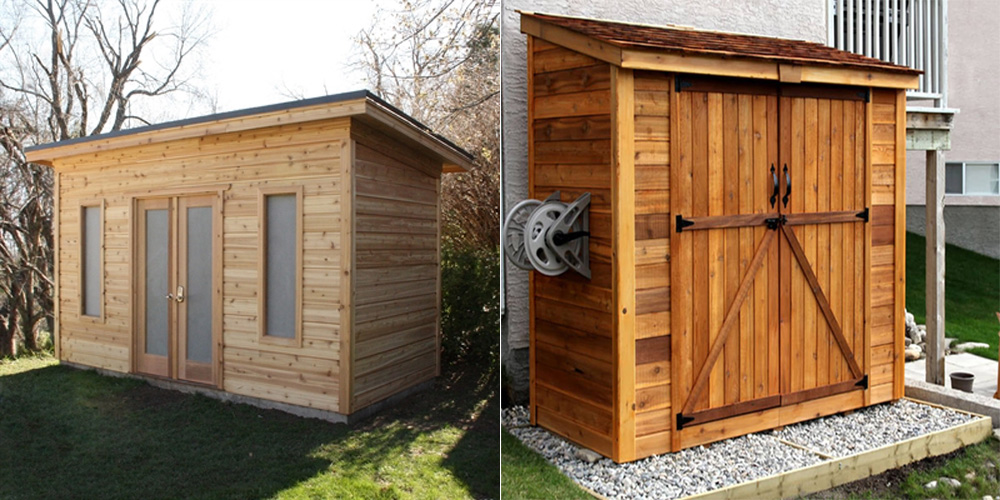 Sheds are ideal places to store yard and gardening equipment. They are large enough to fit lawn mowers, rakes, tools, hedge trimmers, electric saws, and other equipment. Storage sheds are designed to store heavy bulky equipment easily. In a shed, equipment can be organized neatly for easy access when needed. There are many considerations to think about when buying an outdoor shed.
One of the most important benefits of a shed is storage. Consumers can store Christmas decorations and toys. It can protect your children from safety hazards because, it can be locked up. A shed provides room for a hobby in the home or workspace. A shed can help organize the home and garage. It stores items from those messy rooms in the house, attic, or basement. A new shed adds value to the home when selling it. Home owners are always looking for extra storage space.
Inside the shed, shelving, hooks, or peg holes can be added to organize items. A shed protects equipment from rain and cold winter weather. A shed with windows can serve as a greenhouse to grow plants. Some sheds can be outdoor buildings for gardening and hobbies. It can be a fun place to have outdoor parties and gatherings.
What Shed Materials To Consider 

There are many styles of sheds for outdoors, made from durable materials. Plastic resin or vinyl sheds have a professional appearance, and with mold injection parts can be made in many designs. These sheds have dirt resistant floors, ramps, and window that provide plenty of light. They are made in variety of sizes, and the sheds are easy to install and maintain. This material is inexpensive. A vinyl shed does not rot or suffer from insect damage.
Metal sheds are durable and very affordable for consumers. They withstand harsh weather and last many years. The shed never needs to be painted or sanded. Many metal sheds come in kits, that are easily assembled or pre-made ready to be installed in the yard. These metal sheds endure bad weather well.
Wood sheds are the … READ MORE
Considering an upgrade for your home? You're making a smart decision. Home renovations can dramatically increase your home's value and make the years you spend there more pleasant. However, not all home upgrades are created equal. Choose the upgrades for your situation that will pay off the most. The following five home upgrades will give you the biggest return on investment (ROI). 


Improve Energy Efficiency 
While it won't necessarily do anything for the looks of your home, improving your home's energy efficiency will give you more bang for your buck. Even by just adding more attic insulation, a homeowner can recoup more than 100 percent of the cost by saving on heating and cooling costs while making the home more attractive to potential buyers. Since more energy efficient homes are now on the market, you will be better able to compete. In addition to upgrading the HVAC, don't forget about replacing older windows and water heaters. 

Minor Kitchen Remodel 
If you can only renovate one room in your home make it the kitchen. The kitchen is a focal point in your home and an upgrade can pay off handsomely. Don't think a kitchen upgrade has to break the bank. Expensive new appliances aren't necessary. Focus on cabinets and countertops instead. If cabinets are in good condition, they can be refinished or painted instead of replaced. You can make an impressive kitchen by merely adding new knobs and an attractive backsplash. 

Upgrade the Bathrooms 
After kitchens, bathrooms are the second most important selling point for your home. Only a minor bathroom upgrade can result in a 100 percent ROI. Regrouting tile is a minor project that makes a major difference in your bathroom's appearance; so, can removing and replacing caulking around the tub and shower. Replace old toilets for a more modern look. Simply replacing mirrors and fixtures can go a long way in improving the look of your bathroom. While replacing a standard tub with a tile shower can be expensive, you will still have an ROI of over 80 percent. 

Garage Addition 
Garages are versatile in both design and function. It's a place to protect vehicles from the elements, provide extra storage, and even a workshop. If your home has no existing garage, it could scare off many potential buyers. Fortunately, you have the option of adding one at a lower cost than having one built one. Prefab … READ MORE